Matty, Owner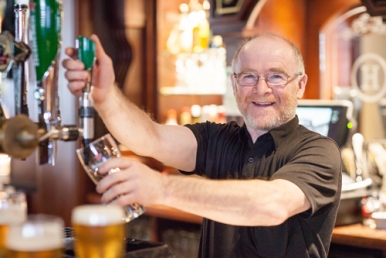 Matty might be a teetotaller but that doesn't stop him from pulling pints behind the bar at Henry's. Originally a builder, Matty bought the bar and restaurant in 2002 and leased it out until he took over the running of Henry's himself in October 2010.
"I had only ever worked in property so it was a learning experience," says Matty, who is from up the road in Ballintrillick.
Matty is passionate about Henry's and the locality in which it is situated. He loves telling customers about all there is to do in the area - from the walks and trails across Benbulben to visiting Lissadell or Yeats' grave in Drumcliffe. And, of course, after the site-seeing is over, a visit to Henry's for a great meal is always recommended.
---
Martina, Waitress.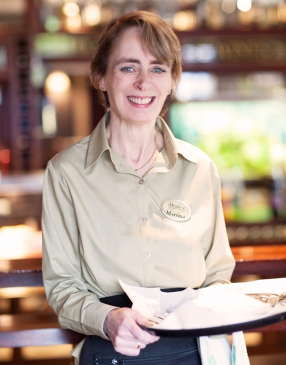 If you are a parent and a regular visitor to Henry's, then you'll know Martina.
Martina prides herself in taking care of Henry's younger visitors and always welcomes them with a smile - and a kind word.
"When families come in, I like to make a fuss of the children. I know that if the children are happy, then the parents are," says Martina. "Families instantly relax when they feel that they are in a place where the children are welcome and I love to make sure they know they are welcome here."
Living in Grange, Martina has been part of Henry's team for four years.
In her spare time, Martina is kept busy with her own children: Sarah (14) and Emma (11) and loves reading but, for visitors to the area, she recommends the mountain walks, horse riding in the nearby stables and the children's playground in Grange.
---
Neal, Waiter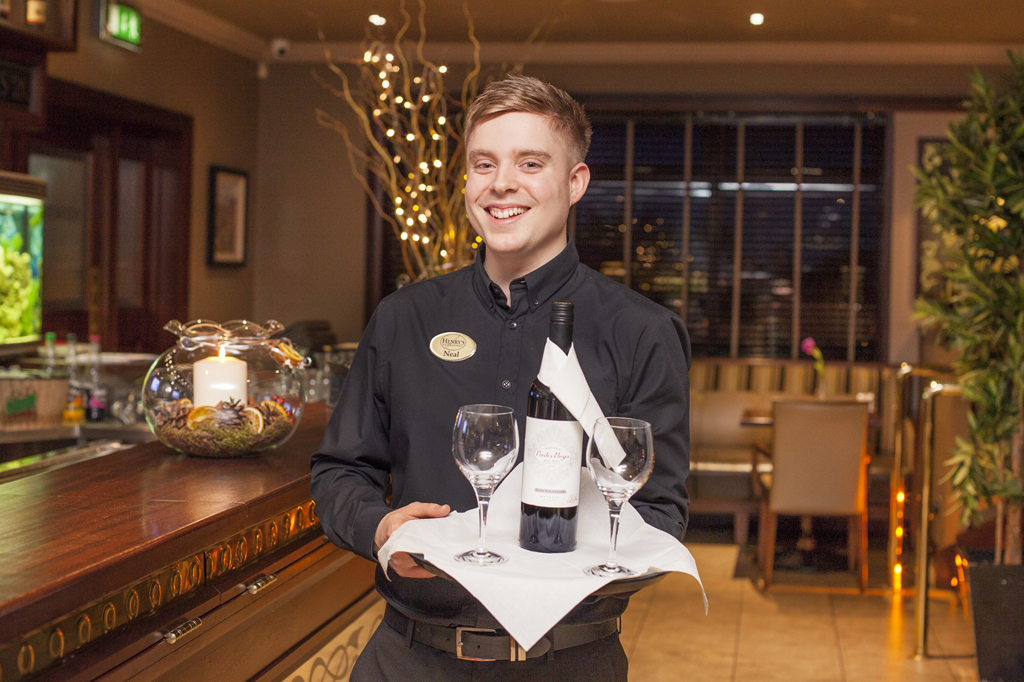 Neal is a local lad who joined the team in August 2015 and lives only a stones-throw away in the village of Carney. He has gained invaluable experience in hospitality having worked in the bar and restaurant business right throughout his student days at Summerhill College and NUI Galway.
"I love the hustle and bustle of this busy restaurant where I serve our many regular customers during Carvery and evening service. I also take pride in making sure that all of our diners are well looked after as it is very important they enjoy their experience here at Henry's.
Neal is a keen follower of soccer having played with local club Yeats United FC and attends Sligo Rovers matches if he has a Saturday night off work. "I have to explain to some customers in the bar if we speak about sport that I am more interested in soccer than GAA. This is sometimes met with bemusement and friendly banter, especially from the regulars! In saying that I enjoy serving in the bar and having nice conversations with the customer when I pour a pint of Granny Mary's Red Ale for them."In his spare time Neal enjoys going to the gym, socialising with friends, and running on the track at Oxfield. He also enjoys listening to music when going for walks in Lissadell, Barnaribbon and the countless other picturesque locations on our doorstep in Yeats country.
---
Klaudia, Operations Manager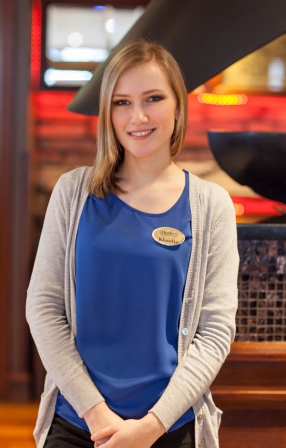 She joined Henry's as Operations Manager in 2014 and gets involved in everything from accounting to marketing to general management.
As an accomplished photographer, Klaudia has a keen interest in the local sites of the Donegal Bay.
"There is absolutely loads to do around here: there is Benbulben right behind us, the Gleniff Horseshoe, Yeats' grave, Lissadell House, Mullaghmore and even down to Bundoran."
As well as photographing scenery, Klaudia takes portrait shots of families and children so spends most of her time outside of work taking pictures.
"I love working here as all the staff really get on well together. We like each other so that creates a nice, pleasant atmosphere that the customers can pick up on."
One of the things she loves about Henry's is its shuttle bus service. "It's just brilliant for groups and bigger parties. We can collect and then drop them back afterwards; it works really well, especially for party groups."
---
Eilís, Waitress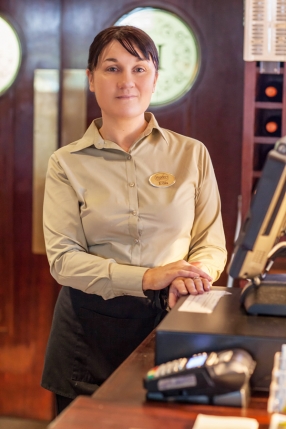 The 'Carvery Queen' is how the staff at Henry's affectionately know Eilís.
She has been in Henry's since 2008 - and was there on the first day it opened its doors so it's no wonder most people know Eilis's welcoming hospitality.
"Opening day was great; it was a huge success - and the opening night party was even better. I've built up a relationship with a lot of customers since then and at this stage I know all the regulars by name," says Eilís, who lives in Caltra Heights. "I love having a chat and getting to know people who come into us; that's definitely one of the attractions of working here."
For Eilís, the customer is always right and she says that she loves to make sure they get a warm welcome. "We want to create a nice atmosphere from the moment people walk through the door. Also, if someone wants something that's not on the menu, we will do our best to get if for them. If it's possible, we will do it."
In her spare time, Eilís is big into her fitness and loves walking and running and goes to Sásta fitness in Sligo twice a week. She has three grown-up children and also likes to spend as much time as possible with her two grandchildren Tori & Jodi.
---

Daniel, Commi Chef
Daniel joined our team 3 years ago when he moved to Ireland from Germany together with his family . He began his work as the Kitchen Porter but throughout the years he got passion for cooking. He took the opportunity of gaining experience and now he expands his creativity in making homemade desserts & appetizers.

In his free time Daniel enjoys cooking at home for his wife and 13 years old daughter, fishing and exploring the beautiful nature around Sligo.

" County Sligo is the most beautiful place I have ever seen and I enjoy my life here much more than I did back in Germany" says Daniel.
---
Anna, Supervisor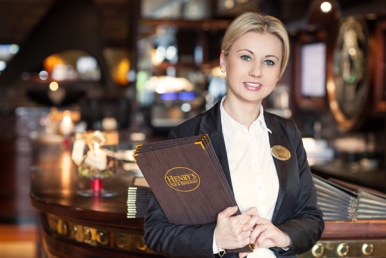 Anna has extensive experience working in the hotel and hospitality areas. She has worked at Henry's since 2014 where she currently holds the role of supervisor.
She came to Henry's after spending periods living and working in Poland and the United States and as far away as Australia.
Since moving to Ireland, Anna has taken to life in Sligo and the North West in general and she loves all of the amenities that this rugged, beautiful region offers.
"I really enjoy Sligo and in particular the outdoors," says Anna.
"I love the ocean and really like going out to Streedagh Beach for the walks and sea breeze. The people here are really lovely and working in Henry's feels like being part of a family. I definitely feel at home here!"
---